Cool Paint for Bubba Wallace at the NHMS Ambetter 301!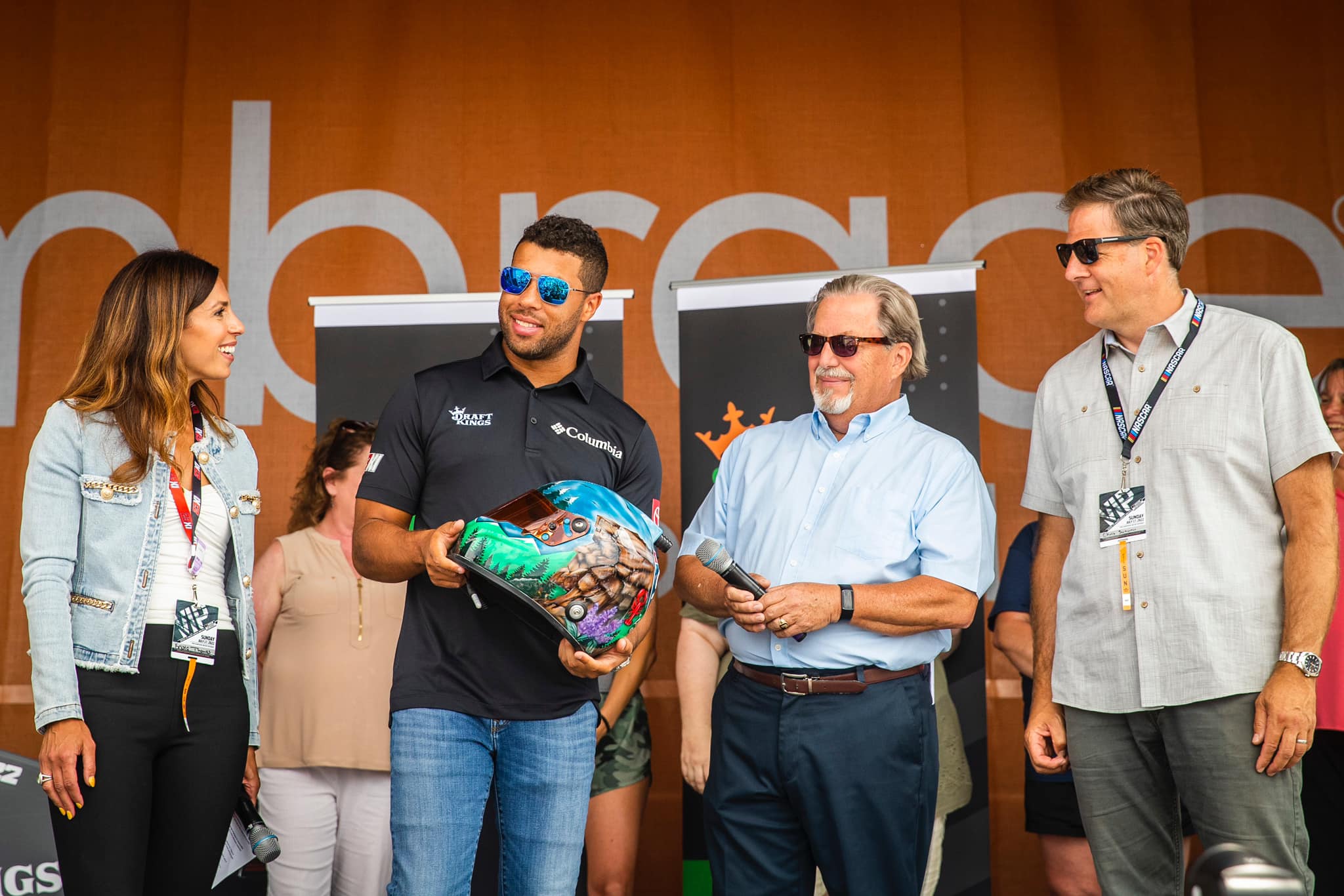 When NASCAR came to New Hampshire last month we had the privilege of painting a commemorative Racing helmet for NASCAR legend Bubba Wallace.
We included everything that is pretty much New Hampshire lol, The Old Man of the Mountain, moose, skiers, even a lobster!
Governor Sununu himself presented the helmet to Bubba and he was quite thrilled with it. Lots of fun with this one!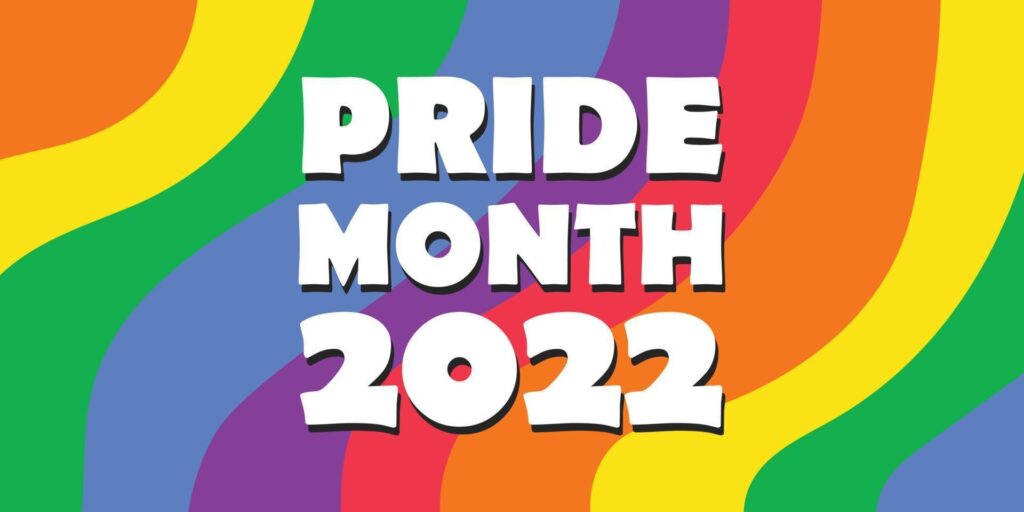 Amazing Artwork for Boston Pride Keeper! Lots of fun working on this project!
Amanda Hendry in her Promasque for North Carolina's 3rd consecutive D1 National Championship!!! Congratulations!!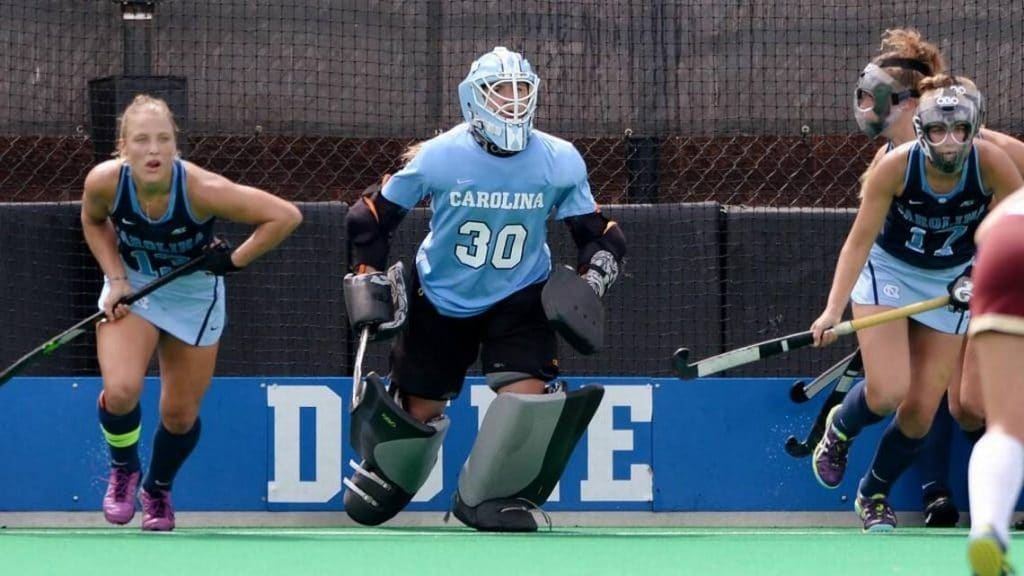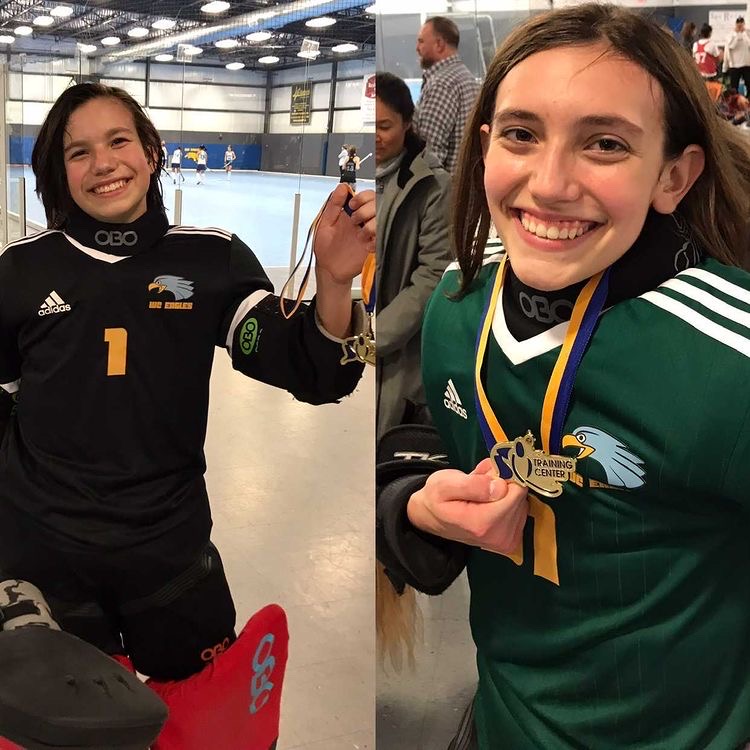 Payton K. (pictured bottom left) is a sophomore.  She plays for Lower Dauphin High School and WC Eagles. This past season she earned "Mid Penn All Conference All Stars" and "All State Honorable Mention Honors".
Brenna K.  (pictured top left) is in 8th grade and plays field hockey for Lower Dauphin Middle School and WC Eagles.
Both girls are honor roll students and Level One USA FH participants. They enjoy art, all animals and video games.
We are proud to have these sisters as part of the Promasque Family!
A tribute to our own Ashley
~ Breast Cancer Survivor ~ and how a mask was made
In the fall of 2018 our son's fiancé, Ashley, was diagnosed with breast cancer at 28 years of age. We were shocked and devastated to say the least. In the months/years that followed Ashley faced this diagnosis with courage, grace, and determination.
She was put into the care of an amazing surgeon Dr. Kari Rosenkranz of the Norris Cotton Cancer Center Dartmouth Hitchcock in Lebanon, NH.
When we found out Dr. Rosenkranz was a goaltender as well, there was simply only one thing we could do. In appreciation for her astounding work, we created this personal mask for Ashley to present to her.
Dr. R is a graduate of Princeton University. A ferocious Princeton Tiger is ripping through the forehead and grabbing the pink breast cancer ribbon. The DHMC hospital seal is cradled in the paw on the other side. The top rear edge silhouettes the Princeton skyline, and the backplate is adorned with the Princeton school seal and her name. Dr. R and her team at DHMC are number one in our hearts, hence the number one on the chin.
Ashley fought like a warrior and today we are celebrating her victory with this disease.
Through social media, radio and print, Ashley has become an ambassador of The Young Survivor Coalition, Breast Cancer Society, and other cancer awareness organizations; educating women of all ages on the reality of breast cancer and how important early detection is.
A Happy Keeper at Christmas!
Email from Eliza's Mom:
"I am beyond excited!!! Can NOT wait. Thank you and the team SO much. It'll take full restraint to not give it to her before Christmas Day."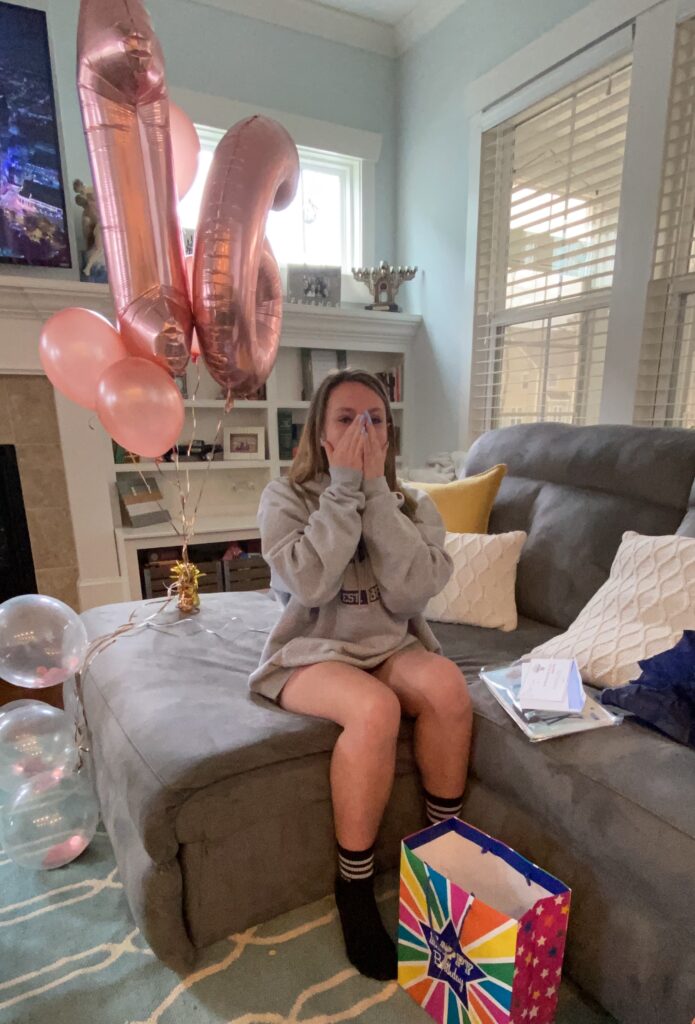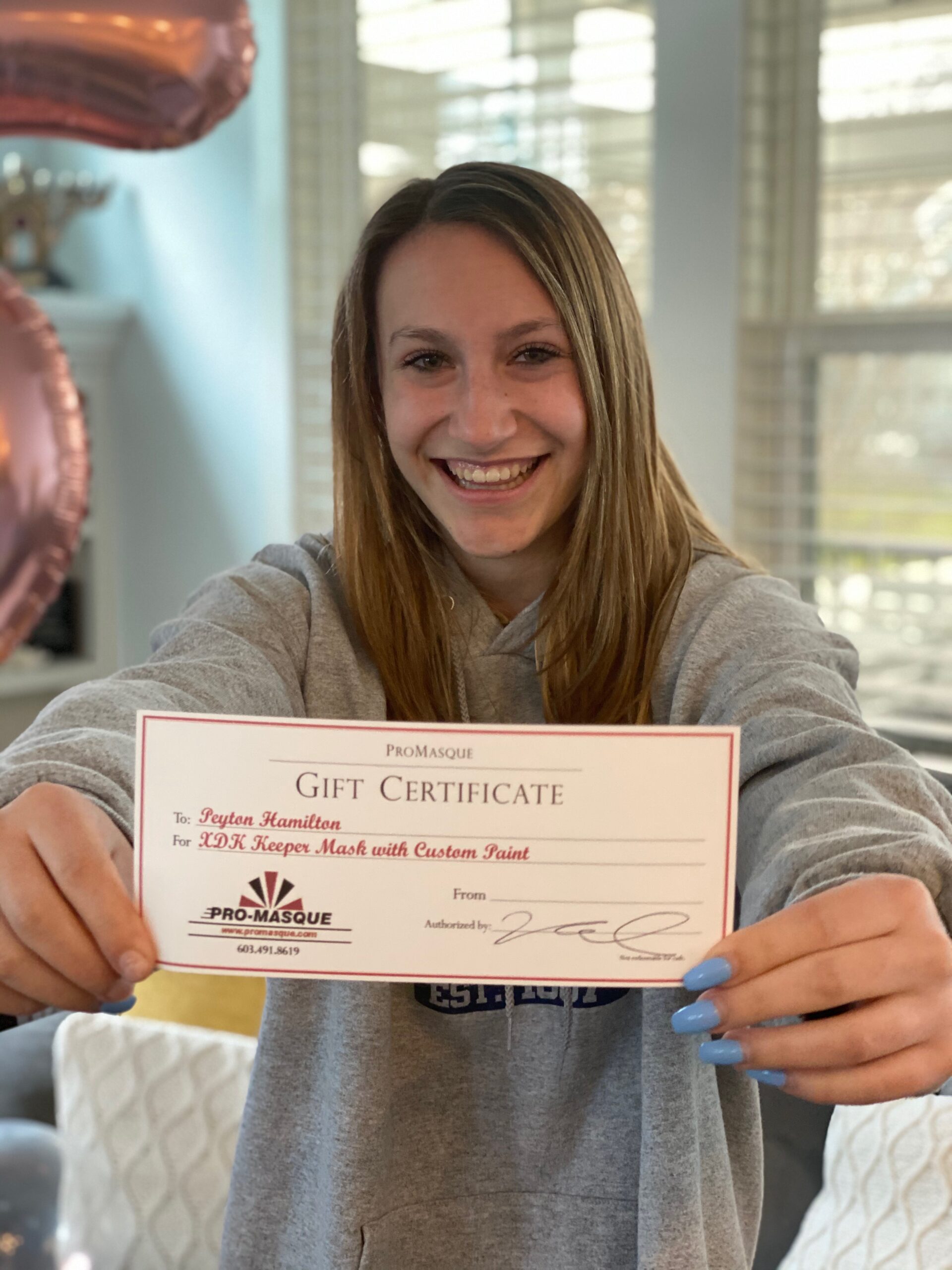 Promasque Makes the Ultimate Keeper Gift!
One of our friends and customers Ben McEvoy of Dunstable, MA is attending UMass Lowell, where the hockey team is Division 1 Hockey East. They're currently ranked 13th in the nation.  He was not recruited to play there, but having played net all his life, still wanted to be involved with the team in some manner.  He started out as a team manager, doing stats for the team on game day, and was also a practice goalie, skating with game day scratches during the team's road trips.
When one of the goalies was unable to play he was actually called up to dress for the team!  He immediately called us to customize his plain black Promasque into a Nasty River Hawk.  Promasque has a Long history of service with UML, dating all the way back to UML Hall of Famer Dwayne Roloson back in 1992. We were thrilled at the opportunity, and got it underway and completed within a week.  The moment it was  done, Ben came to the shop late that evening to pick up the mask.  The team traveled the next morning to R.I T., where he was able to actually dress with the team for the game!  The guys welcomed him with open arms, and he completed his dream of actually dressing for a Division 1 Hockey game!
We thank Ben So Much for letting us be a part of this awesome story. Dreams can come true!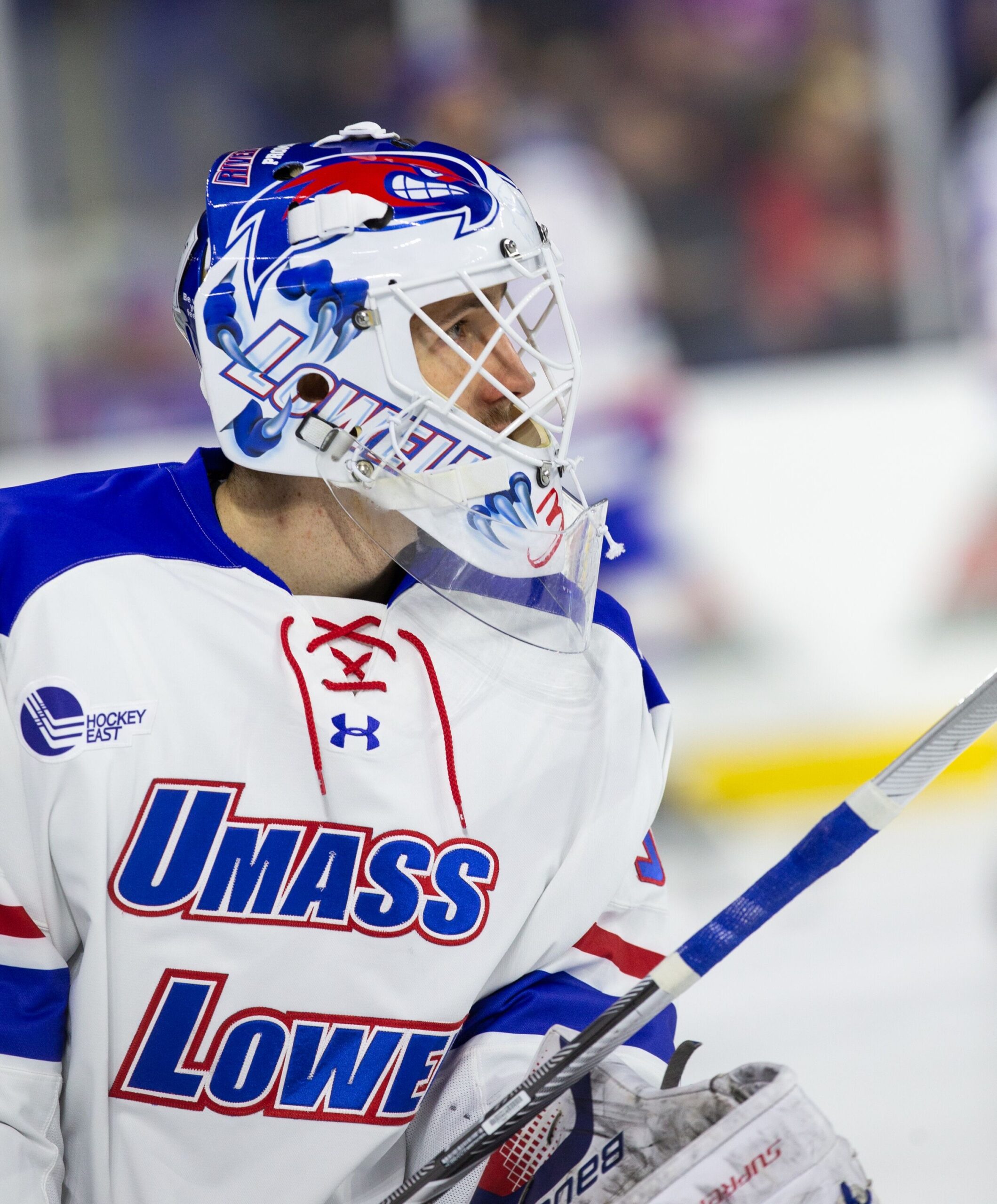 Winter Classic
Throwback!
Throwback!
Bobby Farrelly stole the show with his custom Promasque at the Alumni Game during the    2010 Winter Classic at Fenway Park!
We had a lot of fun making this crazy goalie mask!  Always a good idea to stay hydrated lol!
Hey Matt,
Hope all is well! I thought you would get a kick out of this. Payton had a phenomenal time in North Carolina and her team ended up taking silver. She wanted to send you a pic of her helmet and the medal.
Ken
GETTING YOUR NEW PROMASQUE!